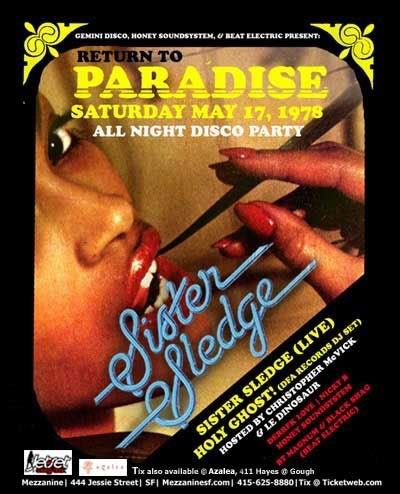 Disco Diva group Sister Sledge will be playing the Mezzanine's all night party "Return to Paradise". The group who brought you "We are Family" among many other hits will be bringing the disco vibe in full effect. It's also a big year for the sister's, as they are being inducted into the Grammy Hall of Fame. Also playing that night is Holy Ghost!, a New York city duo. DJ's spinning that night are Derreck Love, Nicky B., BT Magnum & Black Shag. Honey Soundsystems will also be playing all night in the Honey room upstairs. For a limited time there are $10 tickets available, regular tickets are $15. You can pick up tickets online at ticketweb.com. You can also pick them up in person at one of these locations:
Azalea, 411 Hayes Street (at Gough) and
Urban Outfitters, 80 Powell Street
We'll be open from 10 pm to 6 am, with Jet Set tasting from 10:00-12:00 AM, and drink specials.